Play and creativity

meet caring and support

Being sick can be tough on kids and family alike. That's why we've developed services focused on a child's development and well-being – minimizing the potential stress of treatment and maximizing the fun and play of being a kid.

Play our weekly bingo game from your bed for cool prizes.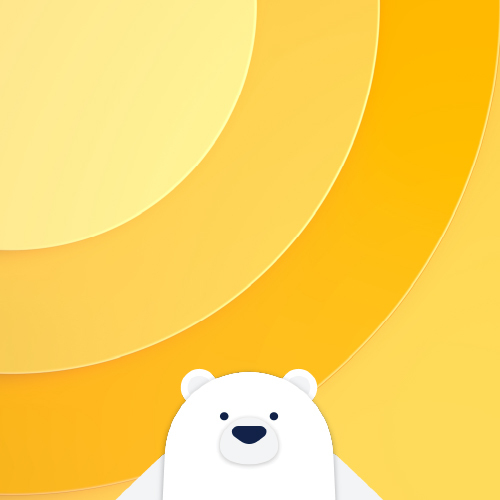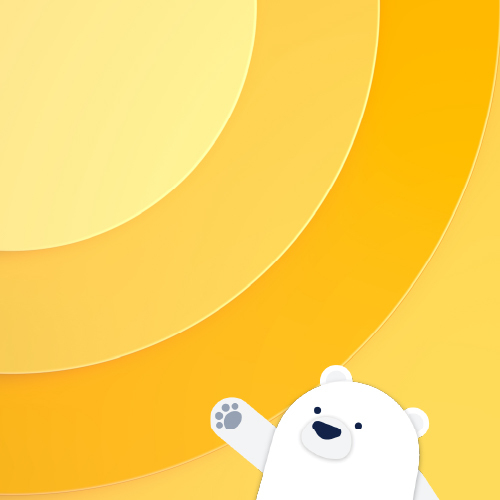 At UCSF Benioff Children's Hospitals, child life specialists and creative arts therapists strive to create positive health care experiences for children, youths and families.
Families often have questions about how to make sure their kids feel ready for a procedure or a stay in the hospital. The mission of our Child Life Services department is to help children and other family members prepare for and cope with these experiences. Our team of certified child life specialists, music therapists, art therapists, educators and parent liaisons are trained in child and family development, and understand the specific needs of children, teens and families in the hospital. Through support, play and education, we collaborate with parents and other caregivers to ensure a friendly and comfortable medical environment for each child.
Services
We provide a range of services to meet the individual needs of each family, including:
Support, education and developmental guidance for parents and other caregivers
Preparing children for medical procedures, using age-specific teaching tools, such as dolls, pictures and medical equipment
Support for children and their families during medical procedures, using techniques such as imagery and distraction to reduce anxiety and promote relaxation
Therapeutic play before, during or after medical experiences
Opportunities to be creative, socialize and learn for children of all ages, including infants and teens
Contact us
Oakland
Child Life & Creative Arts Therapy
747 52nd St.
Oakland, CA 94609
(510) 428-3520
San Francisco
Child Life, Creative Arts Therapies, Education and Family Services
1975 Fourth St.
San Francisco, CA 94158
(415) 353-1203
[email protected]
Walnut Creek
Child Life & Creative Arts Therapy
2401 Shadelands Drive
Walnut Creek, CA 94598
(925) 979-3400
Meet our team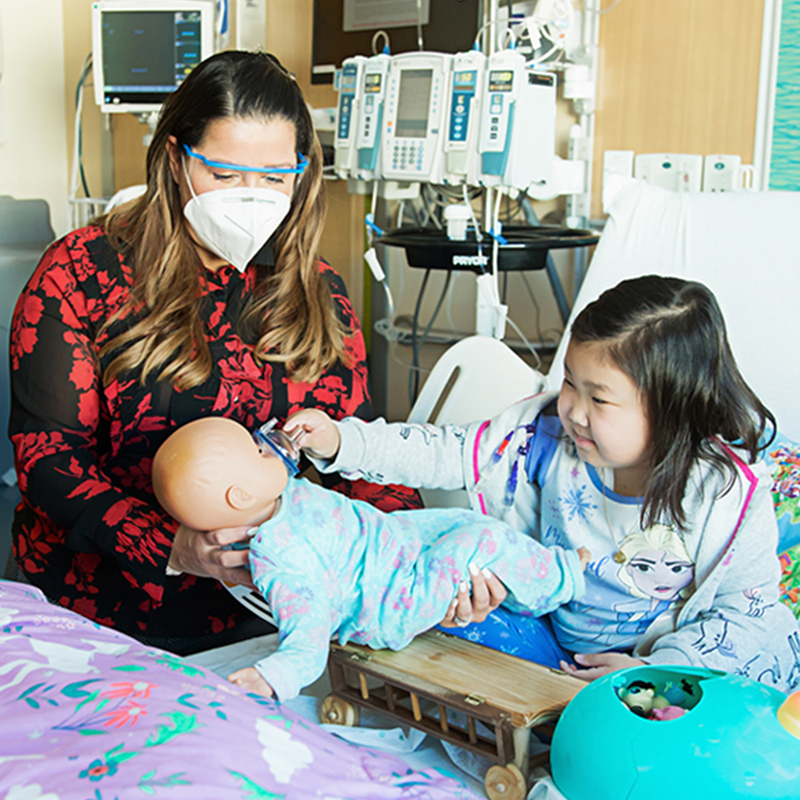 Child life specialists
Child life specialists are educated and trained in the developmental impact of illness and injury on pediatric patients. They use developmentally appropriate therapeutic techniques as well as play sessions to help children adjust to and understand their health care experiences.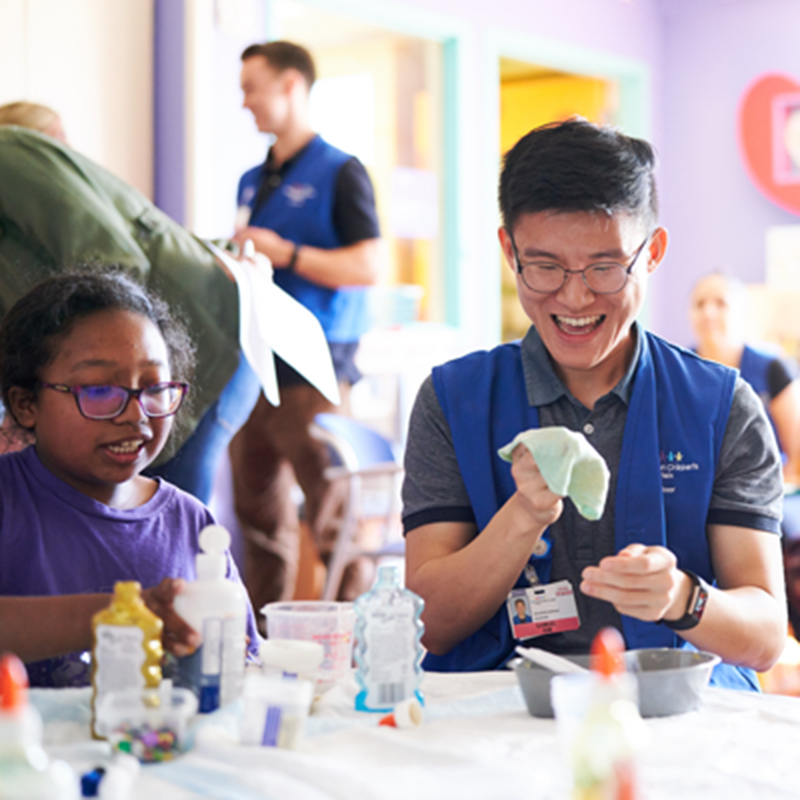 Music therapists
Music therapists focus on recovery, building resilience, supporting normal development, and improving each patient's mood and emotional state. Music therapy creates a space for kids to be kids – to express all the wonder, creativity and inspiration they have to share with the world.

Tender wagging care.
Our therapy dogs spread joy and smiles at the bedside and throughout the hospital.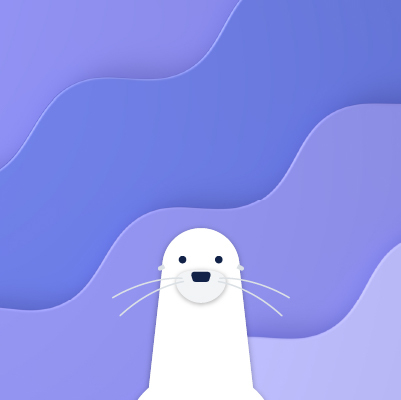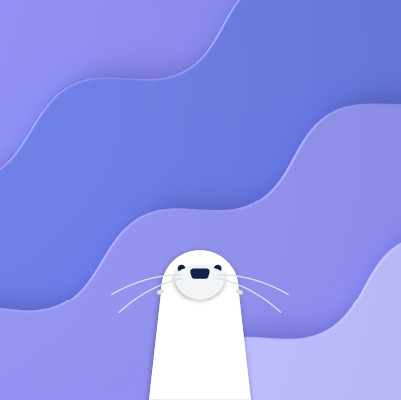 Art therapists
Art therapists are mental health professionals trained in both art and psychology. They work with children as well as adults, using various art forms for assessment and treatment.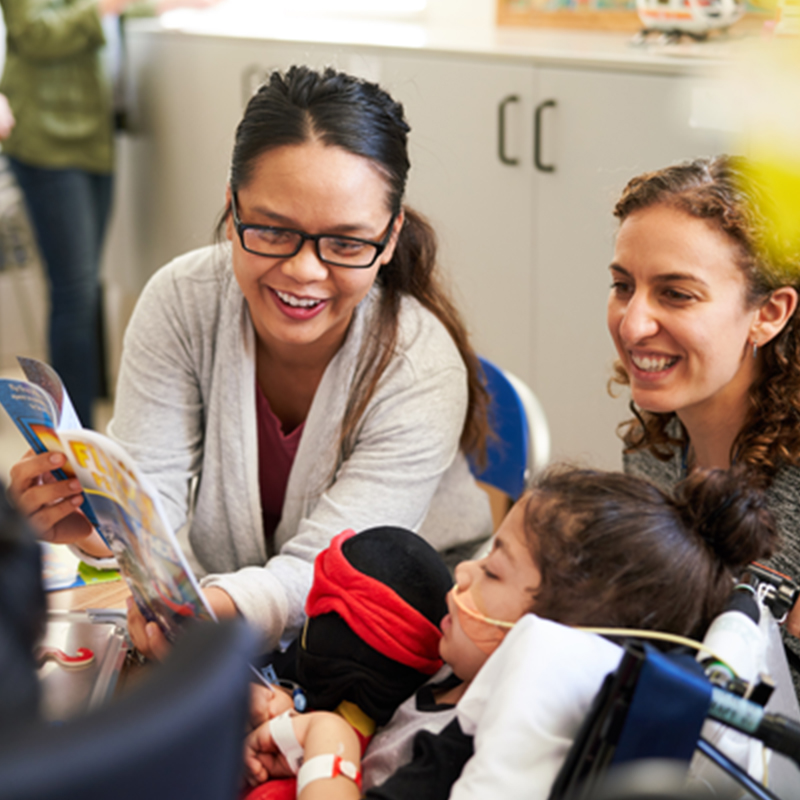 Studio team
Staffed by media specialists, creative arts therapists and child life specialists, Kaleidoscope Studios offers kids opportunities to participate in video and music production, digital arts and live TV shows.
Schoolteachers
Our teachers are credentialed by the California Department of Education. They work with kids in the classroom or at the bedside, creating independent study projects that meet state standards of education and coordinating with each child's school to make sure class requirements are met during the hospital stay.
Parent liaisons
These specially trained parents of previously hospitalized children are hired to provide peer support to parents.
Infant development specialists
Infant development specialists understand the potential impact of illness, injury and hospitalization on early child development and infant-parent attachment. At our Oakland hospital, these professionals are specially trained to support a baby's development during hospitalization and beyond.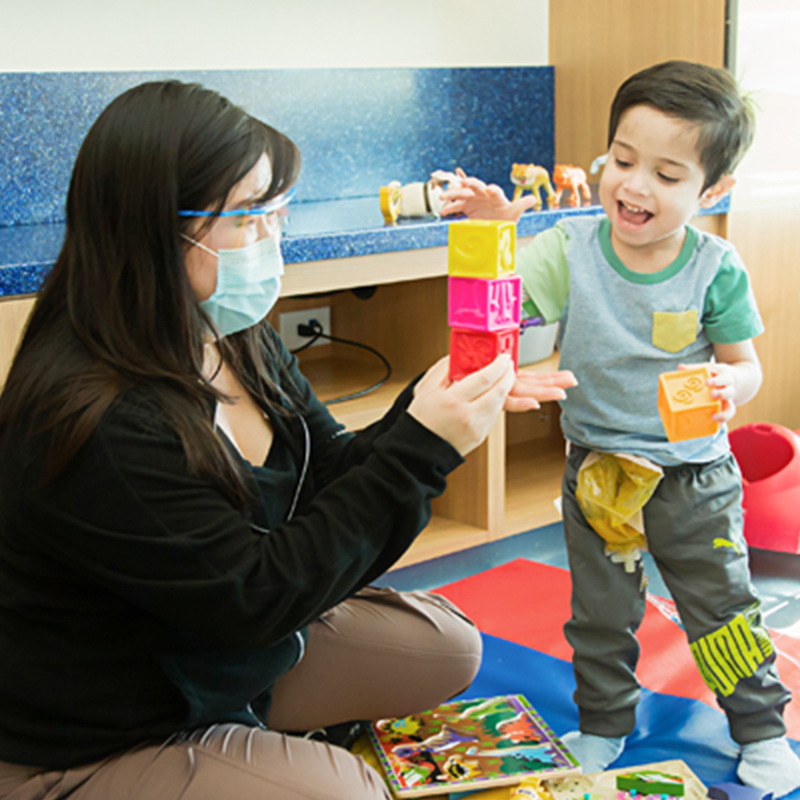 Support Child Life Services
Our team relies on your support to provide these services. From individual gifts to company sponsorships and volunteering, our community's generosity is what enables us to meet the developmental and emotional needs of every child in our care.
Learn more about how to sustain and strengthen Child Life Services through our donation program.
If you'd like to contribute in a hands-on way, consider applying to be a volunteer at our hospitals. If you're a student, you can help care for our patients and learn professional skills by completing a Child Life internship or practicum.
To ask questions or learn more about supporting us, please email [email protected].
Ways to help – Oakland
Make a donation

Support the work of Child Life Services with a monetary gift.

Donate goods

Learn more about our other needs.
Ways to help – San Francisco
Make a donation

Support the work of Child Life Services with a monetary gift.

Support the facility dog program

With your help, our facility dog can continue to comfort patients and their families.

Support creative arts therapy (CAT)

Help our therapists get supplies to bring out our patients' creative side.

Donate goods

Learn more about our other needs.
Partnerships with families
Family Advisory Councils
Families on the council partner with doctors and other staff members to advise us on topics such as hospital policies, designing a healing environment, treatment experiences from a parent's perspective, and more. Family members represent various fields of care and types of hospital admissions.
Translation, please
We have interpreters for Cantonese, Mandarin, Spanish, Russian, American Sign Language and more.
Request an interpreter